Venue - Fritiden hotel, Ystad, Sweden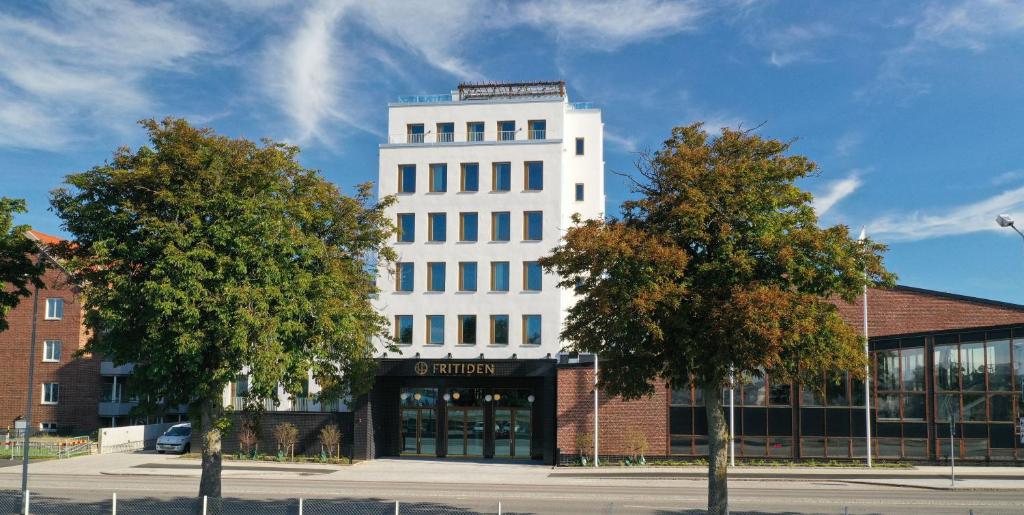 From bathhouse to hotel
When the Fritidsbadet in Ystad was completed, the idea of ​​a bathhouse had been around since the 1930s. But the Second World War intervened and the plans were put on hold. It was not until 1961 that the swimming pool could be inaugurated, designed by city architect Rune Welin.
Behind Fritidsbadet is a small park, Fritidsparken, also called Bollhusparken. Both the park and the bathhouse are named after the "Fritiden" exhibition that was held in the area in 1936. Then an entire area of ​​the city was transformed into a place where Swedes would, for a few days, hear about the importance of being free. It was at the time when workers were not entitled to paid holidays. It wasn't until June 8, 1938 that Sweden got its first holiday law and workers got the right to two weeks of paid vacation.
The recreational pool became a well-used bathhouse. In the basins, only Baltic Sea water was used directly from the sea, something that was considered new and modern. But despite the high quality of both materials and craftsmanship, the bath was ultimately too worn to be used.
Renovating the bathhouse would be far too expensive, and Ystad municipality chose instead to announce a land allotment competition. The house is not protected according to the Planning and Building Act, but since the municipality considers the building to have certain cultural and historical values, specific requirements were set.
Among other things, demands were made that the facades with the teak window sections should be preserved intact and that the beautiful fine entrance should remain.
Together with two architectural offices, Martin Jönsson submitted his plans to build a hotel to the municipality and won the competition.
The owners chose the name Fritiden because the whole area is called that.
In autumn 2018, the first sod was laid and the hope was to be able to open by Easter 2020.
Covid-19 got in the way and the hotel had to open in June instead.
Knobs, stands, benches, shelves, mouldings, mosaics, tiles and windows are some of the things that have been preserved. 
Geoenergy heats and cools the hotel, which is both an environmentally friendly and efficient system. 
Now the building has been brought back to life and will continue to be open to the public, but in a new guise as a hotel and convention center.